It's Officially Football Friday!
The NFL is back! More college football is on tap! Woohoo!
It's only been one game of the 2020 NFL season, but the Kansas City Chiefs look like the best team I have seen all season. Patrick Mahomes and the defending Super Bowl champions blew away Deshaun Watson and the Houston Texans in the Thursday night season opener, 31-20. Call me crazy, but I think the Chiefs are a better team than the Texans this season. This was certainly not the way Bill O'Brien wanted to start off the new year, and it is a tough way to get going for Watson after signing his brand-spanking-new contract. Mahomes? Yeah, he's still good.
Unfortunately, the night was spoiled before the first kickoff when the two teams lined up at midfield and joined arms in a shown of unity in support of social equality in our society. What's wrong with that? Nothing, of course, but that didn't stop a number of fans in the limited capacity Arrowhead Stadium from voicing their displeasure over such a display.
This show was also designed to include a moment of silence as well, which is clearly the most inappropriate of times to boo. I simply do not understand why anyone would be against people coming together with the hope of raising awareness for the fight for social equality, one that has had to endure far too long as far as I'm concerned.
Get used to this, though. The idea of sticking to sports is extinct. Players in all sports have as loud a collective voice as they have ever had, and those voices will be heard whether you like it or not. The paths have been crossed and they have officially merged in 2020. They won't be separating from one another in the foreseeable future, and you know the current president won't be shy about weighing in with his opinion on this event (which he will assuredly say he didn't watch anyway).
Anyway, I attempted to make some NFL picks against the spread this week for Athlon Sports.
My survivor pool pick would be the Indianapolis Colts (against the Jacksonville Jaguars). It may be slightly risky, but let's get them out of the way early.
Speaking of the President, are we getting Big Ten football?
Nah.
But college football continues with Week 2
The Week 2 schedule of the college football season got underway Thursday night with the Miami Hurricanes pulling away from the UAB Blazers. With no games on the schedule for Friday night, we look forward to what is coming up on Saturday.
Conference favorites and perennial College Football Playoff contenders Clemson and Oklahoma will highlight the ACC and Big 12 schedules, respectively, this weekend as they get in their first games of the season. Trevor Lawrence and Dabo Swinney are looking to snap Clemson's one-game losing streak (to LSU in the national championship game), while Lincoln Riley looks to see if he can mold a quarterback he recruited (Spencer Rattler) into a Heisman Trophy finalist to keep Oklahoma's Heisman trend going (Baker Mayfield and Kyler Murray won back-to-back Heisman Trophies and Jalen Hurts was a finalist in 2019). That may be a reach (or maybe not!), but the Sooners should score plenty of points against Missouri State.
In my Week 2 picks against the spread post on Athlon Sports this week, I also went on record by picking Clemson for a big cover (-33), which is a move I generally shy away from. But something tells me the Tigers will be ready to hit the ground running and blow away Wake Forest in Winston-Salem Saturday night.
I also previewed a couple of games for Athlon Sports in Week 2…
If Week 1 was any indication, don't expect too many crisp games this weekend. A highly abnormal offseason has led to teams across the country not exactly being in the kind of game-shape they would prefer. Some teams will be better equipped and prepared than others. We could get some more blowouts on our way.
EXCLUSIVE newsletter college pick of the week

Because you have made it this far into my newsletter, I will share with you one exclusive pick just for my newsletter readers!
One pick I really like is Arkansas State getting 11 points at Kansas State. I'm not sure I consider the Wildcats an offensive juggernaut, and Arkansas State has the benefit of already having seen some live-game action (last week at Memphis). Arkansas State also represented themselves pretty well against Memphis last week. I think they can hang around with Kansas State.
Locked On College Football Podcast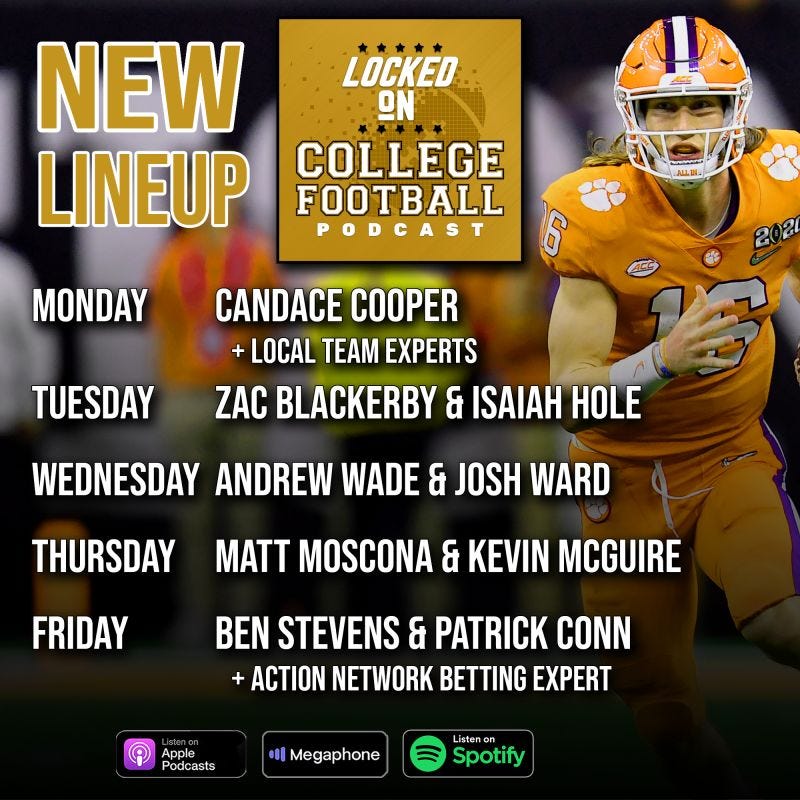 This week saw the re-launch of the Locked On College Football Podcast on the Locked On Podcast Network. New episodes are posted every Monday through Friday with a rotating lineup of hosts and co-hosts to keep you entertained, informed and provide a wide range of perspectives on the state of the game.
I am happy to be included in the lineup of hosts. You can hear me with Matt Moscona every Thursday talking some of the latest headlines and previewing that weekend's college football schedule.
Check out the Locked On College Football Podcast on your favorite podcast app:
Apple Podcasts — Spotify — Stitcher — Google Podcasts
But wait! There's more!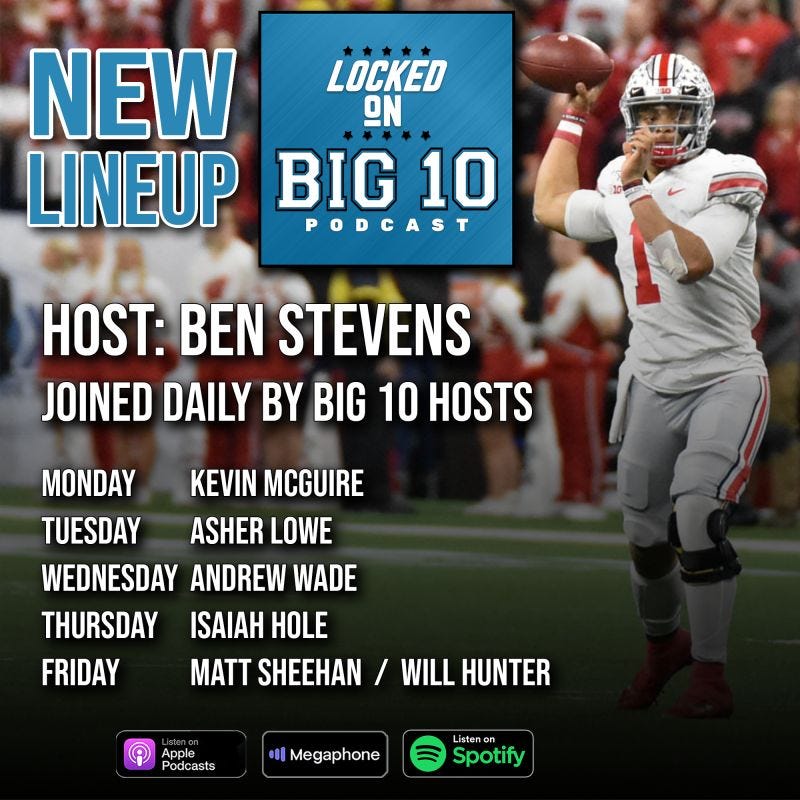 Beginning Monday, I will also be joining the rotation of supporting co-hosts on the Locked On Big Ten Podcast, hosted by Ben Stevens! We'll recap some of the takeaways from the weekend, both on h field and off.
If you want to subscribe to that podcast, here are a few links:
Apple Podcasts — Spotify — Stitcher — Google Podcasts
And don't forget to check out the Locked On Nittany Lions Podcast for my continuing coverage and commentary of Penn State football (even with no football to speak of, for now)!
If there is a GIF that best summarizes the state of the Philadelphia Phillies bullpen, this is it…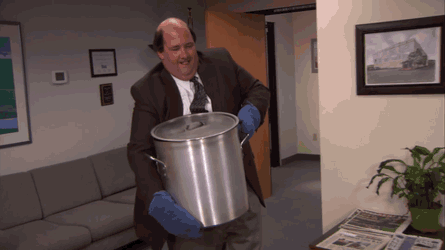 In the first game of a rare seven-game series with the Miami Marlins, the Philadelphia Phillies turned a 6-3 lead to the bullpen. To that point, the Phillies had everything they needed to go well go well… enough. Jake Arrietta battled and left the game with a lead and the bats got a handful of runs off Sandy Alcantara, who has had the Phillies' number in his career. A 6-3 lead in the eighth inning against a team you are battling for in the NL East should be held down with enough regularity. But not with the Phillies.
The Phillies walk into the room with a pot of homemade chilli, fumble it and spill it all over the floor and frantically try to clean it up before anyone notices. The only problem is you can't clean up this mess. It stains.
A night after the Marlins lost in Atlanta 29-9 (!), they returned home to their cavernous dwelling and regained their confidence against a Phillies team that just cannot seem to figure them out.
The Phillies and Marlins will play six more games in this series, with a doubleheader on Friday. Whichever teams comes out of this series with the win will remain in an excellent position to grab one of the playoff spots in the NL East. Five or six wins could up them in position for the division. The Phillies bullpen just might do whatever it can to prevent that from happening.
Quick Links
A few quick links I have saved for reading later during the week. I have either read these and wanted to share, or I still have yet to get t them and this is actually me sharing these links with me again so maybe I finally check them out! I'll let you guess which is the case.
Ninja is back at Twitch [ESPN] - Tyler Blevins, the video game streamer more commonly referred to as Ninja, is back on Twitch. The former Twitch giant made a monster move to Microsoft's Mixr but needed a new streaming home once Mixr shut down. Twitch just made the most sense.
LEGO Minifigure Factory to be revealed [LAN Blog] - Have you ever wanted to create your own LEGO minifigure? Well, it seems you will be able to do that soon!
Thank you for reading my newsletter! If you have yet to do so, I do hope you will consider subscribing to have this delivered straight to your inbox once they become available!
If you would like to connect with me in additional ways, you can follow me on Twitter, Facebook, and Instagram. You can also check out my Twitch channel, which I hope to have going live again very soon!
Have a great weekend, and I'll talk to you again soon!