Will the Ivy League's fall sports decision be the first domino to fall?
Don't expect the SEC and Big Ten to follow the Ivy League's decision just yet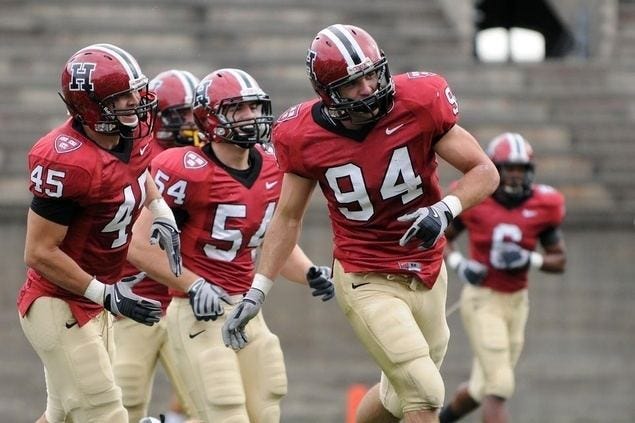 As was anticipated, the Ivy League formally announced its decision on Wednesday afternoon to put all fall sports on the shelf for the upcoming fall semester. While a growing list of schools at lower levels continue to make their decisions on what to do about the looming college football season, and as a handful of games have wiped off the books at the FBS and FCS levels, the Ivy League's decision marked the first time an entire conference playing at the Division 1 level opted to not take the football field this year.
According to the statement released by the Ivy League on Wednesday, a decision on what to do with winter and spring sports will be made at a later date, allowing the league to gather more information and get a better sense for which way things are trending with regard to the COVID-19 pandemic that continues to hamper the United States.
It remains to be seen if any of the fall sports will be able to be played in the spring, including football. And if you thought Big Ten football in November was brought, try playing Ivy League football in New England in March.
If I had to make a guess now, I would guess we simply will not see Ivy League football at all this academic year. Playing college football in the spring, for the most part, sounds like a horrible idea for a handful of reasons, especially for a conference that doesn't generate the kind of big bucks the way a conference like the Big Ten or SEC will. And this brings me to the next big question.
Will any other conference make a similar decision to the Ivy League's?
Back in March, the Ivy League was the first conference to shut down its postseason conference basketball tournament. It did not take long for the rest of the college basketball world, and the collegiate athletics calendar as a whole, to shut it down for the year. With that in mind, the Ivy League's decision is seen by some as the litmus test for what might happen for the college football season. We are starting to see some ripples in this line of thinking, but the power conferences — the ACC, Big 12, Big Ten, Pac-12, and SEC — won't be in as much of a rush to follow the Ivy League's lead.
In brief, the bottom line is the bottom line.
College football is a vital revenue resource for schools, especially in the power conferences. even if a program is running at a deficit, the revenue sharing models in place through various media rights packages nets each power conference school a sizable check every year. Not playing a college football season would be catastrophic to the budgets of every school, which has been documented on a handful of occasions this year. And it is even more of a concern for schools outside of power conferences, and those are the schools that are already experiencing the impact of changes to the upcoming schedule.
For that reason alone, you should not expect to hear any final decisions being made by these conferences for another few weeks. If more and more schools continue to be forced to shut down offseason workouts (as North Carolina and Ohio State did yesterday), then the pressure to make amendments to this year's schedule will continue to rise.
If there are more dominos to fall at the Division 1 level, look to the FCS first. The Patriot League is already having members cancel a handful of games this season (Lafayette at Navy, Fordham at Hawaii) due to travel restrictions. The Patriot League would be a good bet to be the next conference to say "You know, maybe we just shouldn't play this year," as they are closest in the mindset of the Ivy League. As for the FBS, any additional; dominos would certainly begin with the non-power conferences or independent schools not named Notre Dame, Army, BYU, or Liberty. A school like UMass or New Mexico State? Or even UConn? Those would be the most likely schools to make similar decisions form where I'm sitting.
From the very start of this whole pandemic, I believed college football would still be played in the fall. I still lean that way in my line of thinking, although with a number of adjustments to the schedule conceited. My confidence level in this outlook is trending in the wrong direction.
So here, enjoy this montage of NFL players running the wrong way.
And if you do want to go ahead planning on college football's return, the opening lines for a bunch of games is now live. For entertainment purposes only, of course.
If you enjoyed this newsletter, please consider subscribing if you have not yet already done so. And feel free to pass it along to a friend who is just wondering how much college football will be played this season.
You can follow me on Patreon, Twitter, Facebook, Instagram, and Twitch.